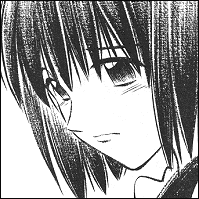 Okay okay! So what if Tsubame isn't *exactly* part of the Kenshin-gumi! But I think she should be though... well let's just say she is part of the Kenshin-gumi, ok? Great! Now that's settled....

Kaoru: I think that Jiken-chan is going nuts these days... she's starting to scare me.
Kenshin: Hai, I agree de gozaru.
Jiken: Oi!! GUYS! Get back on the subject!!
Kenshin: Ahh gomen, gomen! ;;=_=x
Kaoru: She must be on her coffee again. [gets glared at]...I get the point.
Jiken: So what if I like coffee?? Hey! Don't change the subject!! Get on with the interview. Poor Tsubame is waiting!
Check out my LIAC fan-manga to find out about the coffee.